PwC Melbourne Client Spaces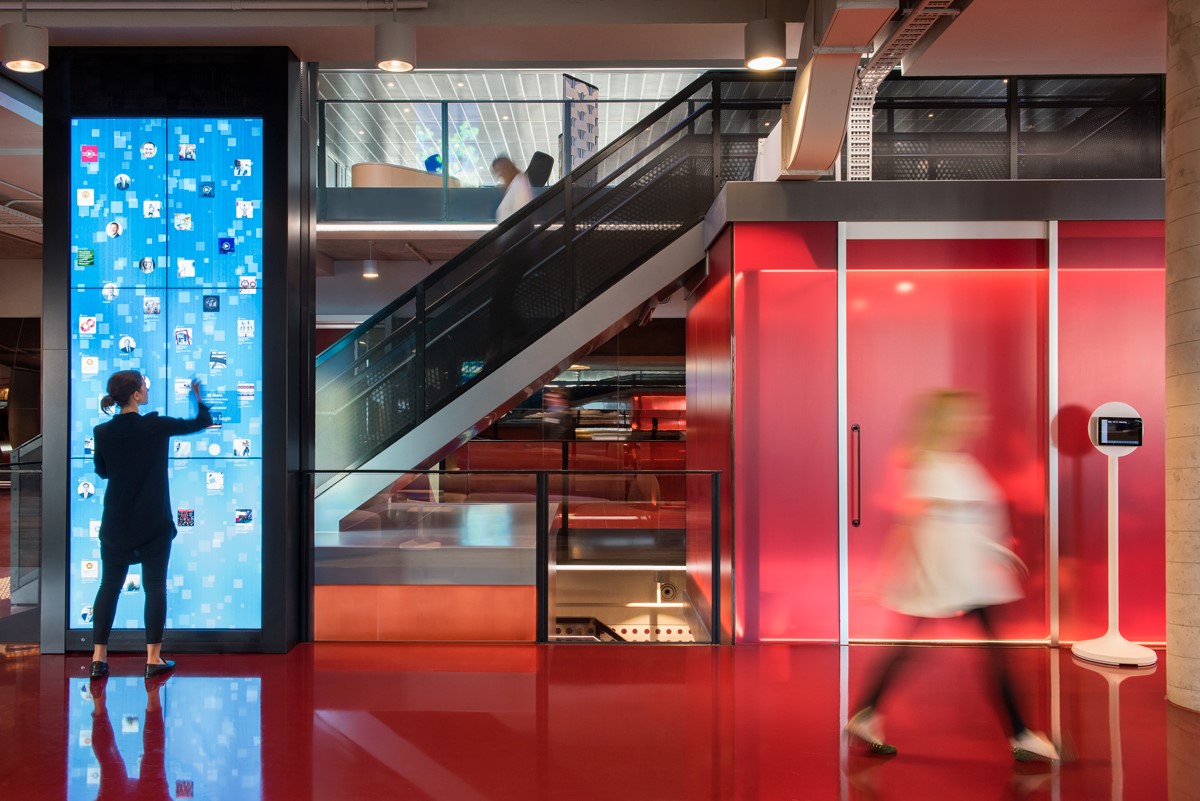 PwC Melbourne's Client Collaboration floors are a blend of the very best that the city has to offer, bringing together all that is quintessentially Melbourne into an energetic blend of creativity, technology, innovation and knowledge.
Located in the Riverside Quay development along the banks of the Yarra River, the four Client Collaboration Floors challenge old ideas of formal client interactions and boardroom meetings. Technology has been integrated throughout the space in order to enhance the experience for PwC's clients and people. Signature elements include:
· The Flame Tree; a four-storey digital artwork, that pulls weather data from the rooftop to create a moving, growing digital art piece
· The Digital Waterfall; a continuous stream of information on PwC's people, thought leadership and whitepapers accessible via touch screen
· The Hub; a 360 degree 'in the round' immersion room and the only installation of its kind in Australia
As this is a completely new way of working the design of the space needed to support people through this process of learning to use a new type of environment. The Client Collaboration floors have been designed to be intuitive, and to give people 'permission' to use the environment in ways that best suit their needs.
The Melbourne PwC project spans 9,000m2 approx across 5 floors, including a resort style rooftop bar and function area. The four floors are connected by a meandering staircase that has meeting rooms suspended within the stair void, creating a vibrant landscape of collaboration and activity.
Melbourne is a city known globally for its 'liveability' and innovation across many areas including architecture and design, sport, the arts, and the food scene. Melbourne is also a melting pot of cultural influences; it is a thriving, creative and forward-thinking city that instils a fervid loyalty amongst its citizens.
We used this reputation as our inspiration for the design of the Melbourne PwC Client Collaboration floors. The palette is bold and energetic, almost an antidote to the grey skies that Melbourne is renowned for. The location of the stair in a central 22m x 8 void focuses energy and attention on the activities, strategies and technologies that are driving PwC forward as a business.
Upon entry the client is immediately welcomed by concierge staff and taken to an elegant café serving coffee that competes with some of Melbourne's finest establishments in terms of quality. Known as The Drop Café, this allows visitors to immediately be drawn into the fold of PwC Melbourne. Each floor has a unique offering to discover in terms of food and beverage, referencing the coffee shops and laneways of Melbourne, and its European influence and style of meeting.
Openness is a key factor in the design – there are many more open settings than you would find in a traditional boardroom environment. The settings have been arranged in a way that is less institutional and formal and more about 'togetherness'. Much of the furniture has been selected for its more residential appeal, whilst still remaining ergonomic and therefore suitable for a working environment.
Throughout the environment the space is a blend of digital and analogue in order to create an experience that is both state of the art and human-centric. Co-creation floors include 'sandpits' and reconfigurable furniture, whiteboards and screens to facilitate innovation in a way that is agile, flexible and completely customisable depending on the user and the event.